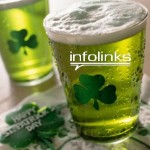 Every year on March 17, people all over the world (whether of Irish descent or not) celebrate St. Patrick's Day with yummy food, good drink and lots of fun. This  holiday originated in the Catholic Church in honor of St. Patrick, but has become  a secular holiday for all to enjoy. We want to join in the Irish festivities this year by hosting a fun Trivia contest for our community of publishers to compete for a $150 Amazon Gift Certificate.
All you have to do to be eligible for this awesome prize is answer the 10 trivia questions below and email us your best answers to www.infolinks.com. We will announce the winner on Sunday the 18th of March – so get to it! Let's hope you have  the Luck O' the Irish on your side.
The St. Patrick's Day Quiz:
1)      What color is customary to wear on St. Patrick's Day?
2)      Where did the first St. Patrick's Day parade take place?
3)      What animal was St. Patrick known for driving out of Ireland?
4)      What is the name of a clover with 3 leaves?
5)      How many leaves must a clover have to be considered lucky?
6)      What unique language is sometimes referred to as "Irish"? *Hint: Not English!
7)      Which country has a larger Irish population, Ireland or the United States?
8)      According to legend, what gift do you receive by kissing the Blarney Stone?
9)      What happens if you don't wear green on St. Patrick's Day?
10)    What mischievous fairy guards the pot of gold at the end of  rainbows?
Good Luck!