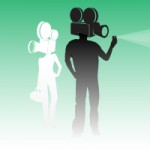 Video marketing is a rapidly growing trend and a dynamic way to connect with users. Many websites are turning to this creative marketing strategy. This month, Infolinks wants to take a peek at your viral video skills. Create a short video promoting Infolinks and enter to win a new shiny camcorder! But before you get your cameras rolling, read on to learn why video is such an important marketing approach.
Since its inception into the online world in 1997, video has made a huge impact on the internet helping businesses tell their stories and consumers understand them. In the US alone, more than 100 million internet users watch online videos every day. The video craze doesn't stop there! Video-sharing websites like YouTube and Vimeo have proved that video is an incredible marketing tool accessible to everyone.
With the appearance of mobile applications like Vine, video marketing has taken an outstanding leap in popularity. Tropicana reached out to their fans with a colorful holiday video, Nintendo created excitement by teasing fans about the launch of their new product and the San Francisco Zoo gave its visitors a little taste of what to expect. Face it, it's much more entertaining to watch a video than read an article and here's why:
Engagement is key
Videos teach us, surprise us and make us laugh. A video can attract new audiences, stimulate conversations, grab the viewer's attention and keep your users coming back for more.
Moving images bring out the viewer's emotions
Simple aspects like hearing another person's voice, seeing their body language or identifying with facial expressions create an emotional reaction from the viewer.
Make your visitor's life easier … they'll thank you for it
Videos help users get a better grasp of the way a product or business works. If well-done, a video can be more explicit and self-explanatory.
It's a social world we're living in
Online videos are easy to share and are a great way to get the message out there.
Think Infolinks and Win!

It's your chance to improve your video marketing skills with Infolinks! First, open an account on Vine. Then, film a video promoting Infolinks and tag it with #InfolinksVideo. You can choose to advertise Infolinks' diverse products, its innovative In³ platform, unique design, service, specialized customization options or anything else you can think of. We will choose the best video advertising Infolinks and give away a shiny new camcorder! You are eligible to participate if your Infolinks account is active. The contest ends on Halloween (October 31) so get your camera rolling before the end of the month!
Be sure to follow us on Vine at @Infolinks to see what the Infolinks employees are saying about our cool products!

Good luck!