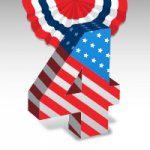 Happy Fourth of July, Infolinkers! Celebrate your freedom by participating in our 4th of July Customization Contest. Liberate yourself and your Infolinks account by entering our contest for a chance to win $100! Let this Fourth of July represent the birthday of America, the hope of our nation and the best for your Infolinks account.
We want you to take a good look at your website or blog with Infolinks ads.  Do the colors of the links match your site? Could they look better? Do you want to add a color around your text bubble? What products are you missing? This is a time for you to really take stock of how your site looks and how it's doing. Changing up your Infolinks color theme and ad placements will keep your site looking fresh and may increase your revenue.
Go ahead and scope out your options in your Publisher Center, test some new colors and add the products you're not already using. Infolinks works best for your site when all products are activated simultaneously. Of course, our Account Managers are standing by should you have any questions or need any advice.
Enter To Win
Before you change your current color theme, take a screen shot of how your site looks. When you've made a final decision on your new color theme and product choices, take another screen shot. Then go ahead and send us the two images. We'll pick 2 winners who will receive an extra $100 in their Infolinks account. We may even feature your website in an upcoming blog post!
Send all before and after screen shots to bloggers@infolinks.com with your PID. Because we want this to be a win-win situation, we'll be checking each account to see if there was an increase in earnings before and after the customization changes. The contest ends July 31, 2013.
Drum roll, please…
And speaking of contests, we'd like to officially announce the winner of the Write About Infolinks Contest. Congratulations to Todd, owner of gossipandgab.com. You can see his review here. Thanks to everyone for participating!

Best of luck to each of you and may you all enjoy a happy and safe 4th of July!