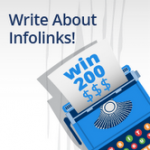 Another month brings another fun contest your way. Sharpen your writing skills and prepare your fingertips, we want to hear from you! Write and publish a website article or blog post about Infolinks and send us the URL to be automatically entered into the contest! We've even attached a fun banner that you can download to use on your post. Let the writing begin!
How to participate
First, choose what kind of post you'd like to write. You can write an Infolinks review, you can write about our products or you can write about your overall experience with Infolinks. Have another idea about what to write in terms of Infolinks? Go for it!
Write your post and publish it for the world to see. Don't forget to link to our website – you can do so by simply putting our URL (www.infolinks.com), by hyperlinking to the word of your choice or by taking advantage of the banner below.
After your article is live, send us the link. We want to know what you think! All live posts can be sent to us at bloggers@infolinks.com.
That's it!
Voila! You have officially entered the contest. One lucky winner will be picked at random to win $200 added to their Infolinks earnings. The contest begins right now, get to typing! As all good things must come to an end, the contest will end at the end of June when we will pick our winner.
The Banner
This banner is yours to download and put on your site to use as the link to our website:

Good luck and happy blogging, Infolinkers!