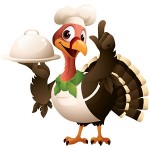 Thanksgiving is an old American holiday based on tradition, family and most importantly FOOD!  A typical Thanksgiving dinner consists of turkey, stuffing, mashed potatoes and gravy, cranberry sauce, green beans and pumpkin pie.  Here at Infolinks we love tradition (especially when it comes to yummy food) but we also like to try more "unconventional" menus.
To help give thanks for all of the good things in our lives and good food in our tummies, Infolinks is running a special Thanksgiving Challenge.   It doesn't matter if you are American or Chinese, or if you like apple pie or baklava, this challenge is for you!  It's quite easy, just visit the Infolinks Facebook Fan Page and under our Thanksgiving challenge post, leave a comment describing your ideal holiday dish.  Examples:  Spaghetti and Meatballs, Chicken Tenders with Honey Mustard sauce, etc.  Once you have posted your ideal dish, the rest of our Facebook Fans will vote on their favorites.
If your dish receives the most "likes" from our Facebook fans, you will win $50 for a meal at any restaurant you choose!  Fifty dollars can buy a lot of turkey or whatever delicious meal that you crave!  So help us give thanks this holiday season and share your favorite dish with us now!