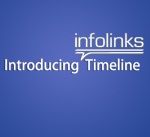 Facebook Timeline. Some love it, others not so much. Like everything in life, change can be hard, especially when related to our favorite social network! But people have utilized this new design creatively to express themselves and engage with friends. Infolinks just made the switch this week and we want to share the excitement with our community! Make our cover photo your own for a chance to win a brand new Swatch Watch.
Many people use their cover photos on Facebook to feature their favorite people, places or other inspiring images. With Facebook's new layout you can also include special moments and milestones in your life and easily navigate to view and even feature past posts on your wall. How many friends did you add in 2009? What places did you visit last February? Now you can easily know the answers to these and many other questions because of the new streamlined design of Facebook.
Share with your friends the power of Infolinks by making our new cover photo your cover photo for the next week! So if you haven't already made the move to Facebook Timeline, now is the time! Once you've uploaded our Cover Photo (posted below) as your own cover photo, simply leave a comment on our Fan Page sharing your thoughts on the new Timeline.

Next week we will randomly select the winner, who will receive a $100 gift certificate to Swatch – in honor of our new Timeline and all things time related. Celebrate with us, make the switch (for a Swatch!) and let us know your thoughts for a chance to win!