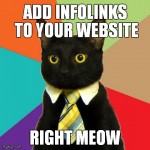 The 1st of April every year, people play silly pranks and practical jokes in honor of April Fool's Day. A day devoted to fun and laughter must be celebrated to the fullest, and we want you to join us as we lead up to April 1st with our fun meme contest. Email us your favorite and funniest meme for a chance to win a $100 gift certificate to either iTunes or Google Play – your choice!
What is an internet meme you may ask? A meme is a viral image that is spread among many people on the internet which is clever and typically very funny. In other words, we want you to share with us some of the funniest images that are perfect for April Fool's Day. Click through the gallery below and check out our favorites:
[imagebrowser id=1]
There is an infinite number of hilarious memes floating all over the internet, you should have no problem coming across a few that will actually make you Laugh Out Loud! Once you find a side-splitting meme image, simply email it to us at www.infolinks.com and we will add it to our Pinterest Board entitled "Infolinks April Fools." Include either the link to the image or the file itself in the email along with your blog URL so that we can identify you on our Pinterest board. We will choose the most hysterical Meme on April 2nd. If your clever meme is chosen, you will get a $100 gift certificate to either iTunes or Google Play – the choice is yours.
So take a break today and prepare to laugh, as you scour the web for the funniest memes around!