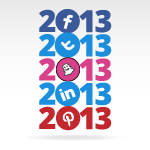 As the internet continues to be dominated by social engagement, countless different niche social media platforms have risen to greatness. But if Facebook was designed to connect you to your friends, twitter to voice your opinion and LinkedIn to find you a job, things today are much more complicated with more than 50 different social networks going after our every second.
We here at Infolinks are continuing our recap of the 2013 and with a checkup of what's going in social media? What does the future have in store? A recent study by GlobalWebIndex might give us some very good clues on where social media is heading.
Top 5 Social Media Trends of 2013
1.      Facebook still leads, but Google + is catching up
The mother of all social networks is still the number one player in the game with a 70% market share, but Google+ is not far behind at just over 50%. These stats are largely to do with the fact that Google+ accounts are automatically opened when someone creates a new Gmail account. This is pushing up the account ownership stats as no other social network has Google's abillty to leverage itself.
Another rising market is China that is helping the some large Chinese social networks including Sina Weibo, Tencent Weibo and Qzone grow in huge numbers, as many other networks like Facebook are banned in most of China . So in fact, Facebook doesn't just have Google+ breathing down its neck, but also the rise of China's social networks that will possibly be a threat in the future.
2.      Older people are joining in, and not only on LinkedIn
Social networks were and still are a hit with the younger demographics. Don't think though that social media is just for the for the teens and people who still have their hair. The increase in usage by the 55 to 64 year old users is greater than 100% for Facebook, Twitter and Google+.
Yet LinkedIn is still the network of choice for most knowledge workers and professionals. It is maybe the most conservative of the social networks due to the fact it is all about business, yet it is becoming more social as it has realized that this will enhance its user penetration and attractiveness.
3.      Snapchat & Pinterest are the fastest growing social networks
The rise of visual based social media has dominated much of the market in recent years, and not only Instagram. Platforms like Pinterest and Tumblr have been rising with growth rates of 88% and 74% respectively over the last 12 months. Twitter and LinkedIn though are still rapid risers with growth rates around 40%.
Instant photo sending app Snapchat claims that it is used by 18.6% of all iPhone owners, and that it shares 400 million "snaps" a day, up from 200 million in June. This figure surpasses the photo-sharing activity on Facebook that averages by comparison 350 million shared photos a day.
4.      Users share photos on Facebook and day to day life on Twitter
Facebook has become the place to put your photos. This is not just from the desktop but the smart phone and the tablet. Facebook is making a big push to become even more mobile, and that was the main reasoning behind their $1 billion Instagram deal last year, as well as their rumored $3 billion offer for Snapchat just a few months ago.
On the other hand, recent studies show that Facebook users are getting sick and tired about hearing what all their friends had for breakfast and Facebook even updated their news feed algorithm in accordance. Meanwhile Twitter users admit they use it mainly to get updated on news and post and comment about their daily activities.
5.      Asia is not the future of social media, it is the present!
When you have one region (Asia Pacific) with a very large population including two countries with more than 1 billion citizens, it's not a surprise that Asia has become one of the largest markets for social media. This is despite the fact that it has one of the lowest internet penetration rates in the world.
According to Facebook's country statistics, India remains Asia's flagship country. With almost 50 million users and a 20% steady increase, this country is a perfect demonstration of Facebook's potential in Asia. It´s followed by Indonesia, the Philippines and Thailand – with promising online user penetration growth.
These are just a couple of the social media trends of 2013. Tune in to our blog in the upcoming weeks as we continue to recap 2013 in the tech world and try to predict what will happen in 2014. Want to stay up to date with everything new in the digital marketing world? Be sure to follow Infolinks on Facebook and Twitter