Just a few weeks ago we talked about how digital ad spend is growing faster than any other medium thanks to the rising power of mobile. Now, according to new data from the Internet Advertising Bureau (IAB), in a first for the advertising industry, marketers are spending more to promote their brands online than they are on broadcast television ads.
This past year, digital advertising online and via mobile crossed the $40 billion mark for the first time ever, according to the Internet Advertising Bureau. Since 2004, the average growth rate has been 18 percent. And this year, digital ad revenues surpassed broadcast television for the first time. Not shockingly, mobile is leading the charge.
Digital Ad Spend Growth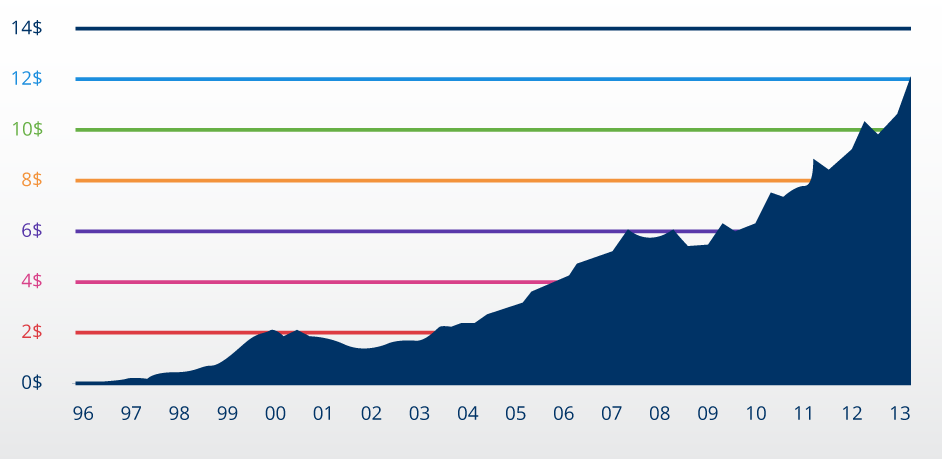 The companies lump search, display and video ads together in the mobile category, which accounted for 17% of the Internet ad market. Broadcast and cable advertising expenditures combined still far exceed online ad buys, however. Combined, they were worth $74.5 billion. Overall, online advertising revenue climbed 17% to a record $42.8 billion in the U.S. in 2013; by comparison, revenue generated from advertising on broadcast TV came in at $40.1 billion last year.
According to IAB, Google, Facebook and Twitter are driving much of the online gains as those companies, along with Yahoo and YouTube, increasingly compete for a bigger share of ad campaigns launched by major marketers that target younger consumers. Broken out, digital video generated $3 billion in ad revenue, while search, the largest online category, brought in $18.4 billion, to account for 43%.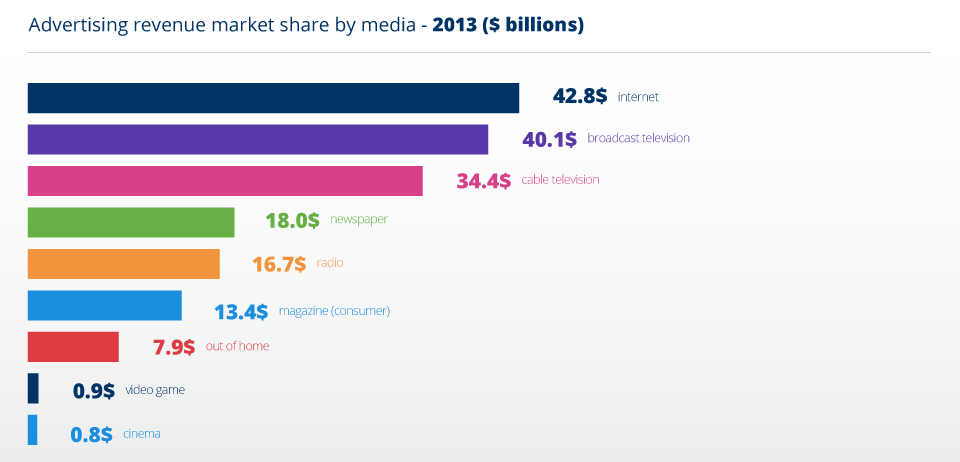 Search remains the largest overall category, at $18.4 billion, and display hit $7.9 billion, according to the IAB's numbers, but those categories are growing much slower than mobile and digital video ads. Search is "only" growing at 8.6 percent, while mobile ad revenue jumped 110 percent to $7.1 billion last year, and digital video ad revenue has tripled over the past few years to $2.8 billion.
Retail is driving the dollar bus
Where's all the money coming from? Retail is the largest category, at 21 percent, of Internet and mobile ad spend, according to the IAB. That's up a point from the previous year. Financial services made up 13 percent of revenues, automotive was 12 percent, and telecom accounted for nine percent of the total digital ad spend.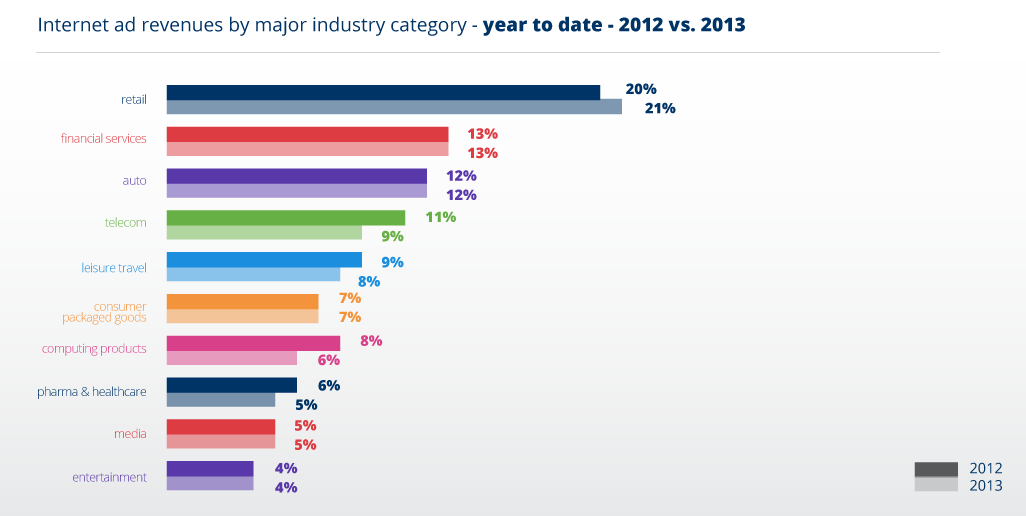 Ad formats are changing
Ad formats are changing from the traditional search and banner of 2005. Not only is mobile growing, but digital video jumped up to the fourth-biggest category of digital ad spend, at $2.8 billion. That's less than half of mobile's $7.1 billion, but it's more than classifieds, at $2.8 billion, and rich media, and lead generation, and sponsorship. And while display ads grew six percent in 2013, video-based ads are growing faster, according to the IAB.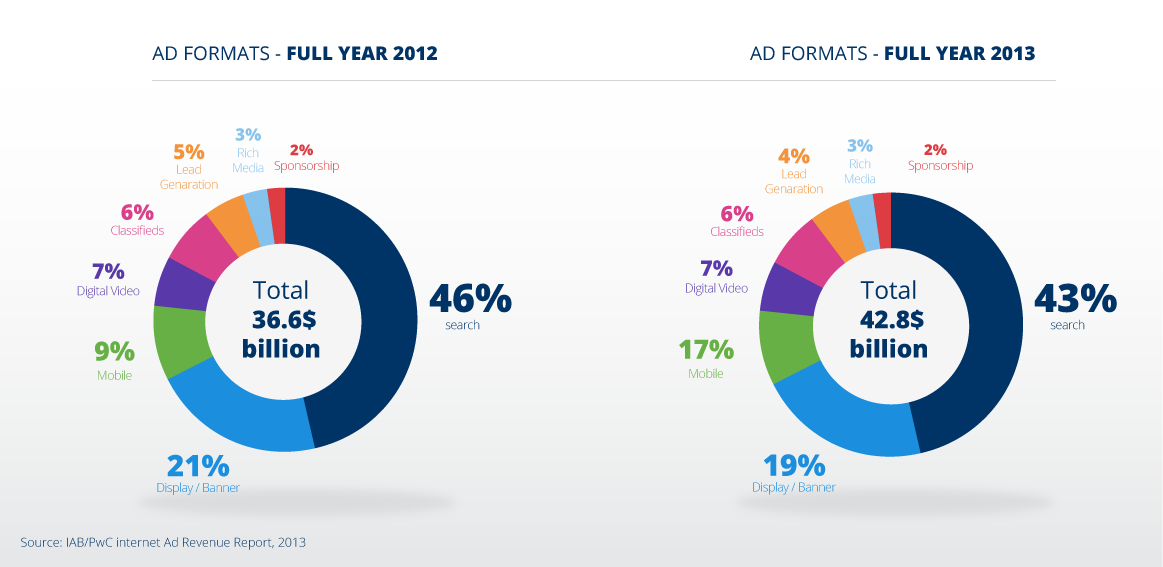 Performance-based pricing down, but still the majority
 Interestingly, performance-based pricing models are down slightly from the previous year. CPM, or cost per thousand views, was up slightly to 33 percent, while performance-based models like CPA (cost per acquisition) dipped slightly to 65 percent.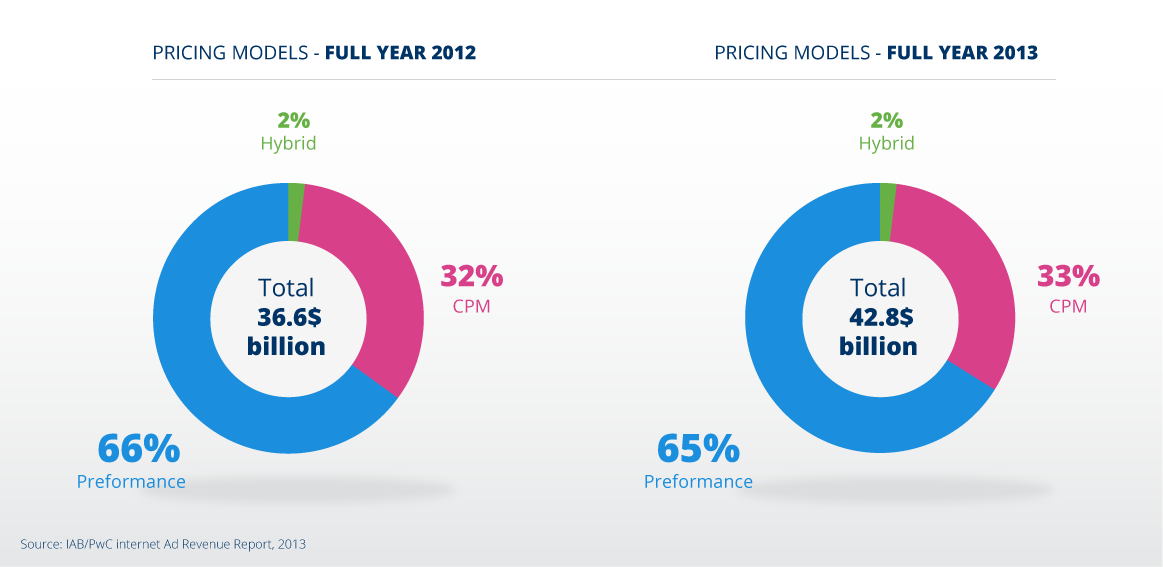 Want to stay up to date with everything new in the digital marketing world? Be sure to follow Infolinks on Facebook and Twitter, and also visit our blog for all the latest!