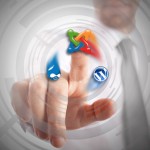 So you've finally decided to start a blog, stake your claim on a small part of the internet that you can call you own. Whether it's for a business endeavor or a personal hobby, getting a site up and running can require some effort, but is made easier when you work with the right content management system (CMS) or platform that best fits your needs and technical experience.
Choosing the right one is akin to picking a place to live, you can eventually pack up your things and move, but you'd prefer not to. Below we take a look at some of the most popular CMS and blogging platforms to help you make your decision.
The Ultimate Top 5 CMS Platforms Review
Drupal is a CMS that enables you to organize, manage and publish your website's content. The platform is an open source software – meaning it is completely free to download, use and modify. There are no purchase, license or maintenance fees. To date, Drupal runs over a million sites worldwide.
| | |
| --- | --- |
| Pros: | Cons: |
| Customizable – Drupal features over 450 themes and 20,000 free add-ons that you can use to design your site. With some development knowledge, you can alter the code and create your ideal site. | Big Learning Curve – The backend of the software can take a long time to understand, especially if you are a newcomer to blog building. This may require an additional investment of time or manpower resources. |
| Strong Security – Drupal has  the strongest security measures in place, making it the builder of choice for governments and banking institutions. | Long Installation – Unlike other CMS and blogging platforms, you will most likely not have a Drupal site up and running on the same day you install it. The process requires building, organizing and reviewing before you are ready to publish your site. |
| Scalable – The software can handle both a large number of content pages as well as visitors without slowing down user performance. |   |
Who's it For: Drupal is the builder of choice for large, complex websites, as well as developers and bloggers who have a strong grasp of HTML and CSS and want to build their own code. If you have time to invest in creating your website and anticipate that you will publish high volumes of content, Drupal is the way to go. Organizations using Drupal include:  The White House, Harvard University, FedEx

Similar to Drupal, Joomla is a free and open source CMS, intended to manage and publish your website's content. The software runs smoothly on most web servers, and in terms of functionality, falls somewhere between the spectrum of Drupal and WordPress.
| | |
| --- | --- |
| Pros: | Cons: |
| User Friendly – The User Interface (UI) is intuitive and relatively easy to use. The CMS features a wide range of plugins and templates which can be put into place almost instantaneously. | Learning Curve – If you are a newcomer to blog building, you may need to invest some time in reading and learning about how to use the builder before you can get your site up and running. |
| E-Commerce Site – If you're looking to set up an online store, Joomla is your builder of choice. The software provides native support features a variety of extensions which enables you to manage content and products all in one place. | Lack of SEO capability – Unlike other builders, SEO is not a built-in part of the software.  This can pose to be a problem as you may need to invest in more resources to manage your SEO. |
| Strong developer community – Because of the large user-base, Joomla users have the advantage of having access to helpful forums and tutorials that they can use to learn the software and make the most of it. |   |
Who's it For: Joomla is a good choice for mid-size business, e-commerce sites or those who have some development knowledge want to have more control over the back-end of their blog. Organizations using Joomla include: Linux, Sprint, IHOP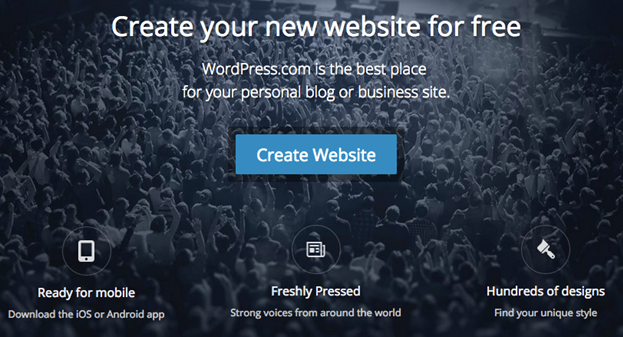 WordPress is the most popular CMS system on the market offering two different products – WordPress.org and WordPress.com. If you aren't ready to host your own blog, you can start with the latter. Both services are easy to use and ensure that you can have your blog up and running with minimal effort.
| | |
| --- | --- |
| Pros: | Cons: |
| Simple- WordPress was designed for the mass market, so it takes almost no time to learn to use and is intuitive those who are new to web building. | Security – Since most of the WordPress code is available online, it is often a target for hackers. There are plugins available to help you bump up your security. |
| Flexible – WordPress offers a wide variety of both free and premium templates, as well as a big range of plugins and widgets, which allows you develop a site matching your needs. | Content Management Capabilities – WordPress is a great starting out point for many bloggers and companies, but if they see a big spike in the amount of content uploaded as well as visitors, they will need to consider something more suitable to handle the volume. |
| SEO Features – The software integrates with several plugins which help your site get to the top of search results without any additional work. |   |
Who's it For: WordPress is the ideal solution for those new to blogging and website building. The builder requires almost no time or money investment to learn and you can get your site running right away. Because of this, WordPress is the most popular CMS system out there.   Organizations using WordPress include: The New Yorker, Vogue, Time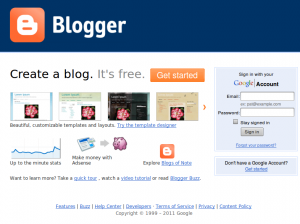 Blogger, formerly known as Blogpost, is part of the Google product family. It is one of the oldest platforms on the market, and responsible for making blog mainstream. The software is extremely easy to use, utilizing a What You See Is What You Get (WYSIWYG) builder.
| | |
| --- | --- |
| Pros: | Cons: |
| Seamless Integration – Being a member of the Google family has its advantages. Anyone with a Gmail account can automatically have a Blogger account. If you want to start monetizing on your blog, you can integrate with Google Ads (Adsense) and start raking in the dough. | Homogenous – Blogger has a limited number of templates and does not allow customization of the backend code. It's difficult to put a personal touch on a site built on Blogger and all sites end up having the same look. |
| Easy Builder – Writing and formatting posts is extremely simple and can be compared to composing an email in Gmail. The drag and formatting let's you easily modify and improve upon your posts. | Owned by Google – Google has the right to control and access your blog's content and information. They have the ability to shut down your blog when they see fit. |
| Stability – Since Blogger has been around for over two decades, there are little to no stability issues. |   |
Who's it For: Blogger is ideal for casual bloggers, who want to take up blogging as a hobby or a side project. If the blog becomes successful and the readership picks up, users will most likely want to upgrade to WordPress or a more developed CMS that can match their growing needs. Organizations using Blogger include: Google Blog, Twitter Blog, Official GMail Blog
Last, but certainly not least, is Tumblr. This blogging platform strays away from the traditional CMS and is more of a hybrid between blogging and social media. It's easy to use and meant for quick, eye-catching posts.
| | |
| --- | --- |
| Pros: | Cons: |
| Easy to Use: It's easy to get your blog up and running. There is no need to download any software and uploading a post is as easy as choosing the post type (image, video, text, link) and clicking publish. | Limited: Tumblr users have limited control over formatting and aren't offered as many add-ons and plugins as Joomla and WordPress. Furthermore, since you can't host your own blog, if there are issues with Tumblr's servers, you will not be able to access your blog. |
| Contemporary: In the current internet climate, site visitors have a very short attention span. Tumblr posts are meant to be short, quick and easy to digest by readers. | Not Professional: Tumblr has a reputation for being popular amongst Gen Y users and niche audiences, which may be a turn off for some bloggers. Additionaly, long form posts don't work well on this platform. |
| Community: Tumblr hosts over 230 million blogs, and your content is automatically available to all of these users. If your posts stand out, they have a good chance of being liked, reblogged and going viral. |   |
Who's it For: Tumblr works well for anyone who wants to transmit small pieces of information online. This is especially useful for photographers and artists. It can also be used in conjunction with an already established blog or website, to further spread links, content and photos to a large audience. Organizations using Tumblr include: Comedy Central, Rolling Stone, NPR

Earn more from your blog with Infolinks!
No matter what CMS platform you choose, Infolinks is the leading platform for blogging monetization, helping more than 120K bloggers world wide make more from their site with style and ease. Visit us at Infolinks.com and start making more from your content!