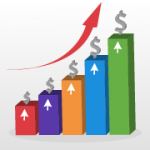 Every website owner should be looking to increase their fan base and their traffic. From newbies to experts, the more traffic you have, the more credible your site. And with Infolinks on your site, the more traffic you have, the higher your earnings should be. Here Infolinks brings you the best methods to increase your traffic, in turn helping to increase your revenue. Who's ready to get started?
If you follow even some of these tips you're bound to see an increase in your traffic. Every little bit helps. And like we said, the more traffic you have, the more your ads are being seen. Let's get started.
Social media is your friend
We all know that sharing on social media is crucial. But you can do more: use hash tags, searches and those you follow to find interesting conversations, content and an excuse to jump right in.
Website Design
Your website should be user friendly, easy to navigate and clear to all. A visitor shouldn't have to try hard to get from one post to another or do a quick search to find what they're looking for.
Work on your SEO
Don't be afraid of SEO, instead use it to your advantage. Keep up with keyword research, use backlinks and make sure, as always, that your content is original. Find even more SEO tips here.
Consistent posts are best
Your readers want to come to your site to see and learn new things. Not posting something new in a while can create the image that you don't have good upkeep for your site and that you're not serious.
Build an email list
As soon as possible begin gathering emails from your readers. This way you can communicate with them via newsletter, promotions and more. This will give a gentle reminder to those readers who haven't visited in a while.
Be a guest blogger
Guest blogging is huge in terms of sending traffic to your site. The post you write will reach a whole new crowd on someone else's site and with the help of a nicely written biography, they'll likely check your site out as well.
Use analytics
Get to know the traffic you already have to help you build future traffic. Google Analytics is a free and simple tool you can and should use to understand which sources help bring more traffic, and from where.
Reference your own posts
Your new traffic may have come across a post and not be aware of the rest of your website. Take the opportunity to link to other posts from your site where the shoe fits, allowing for more views of your work.
The more traffic you receive to your website the more opportunity you have for engaged ads. More traffic should increase your revenue and allow your Infolinks Reports to improve immensely.
What do you do to increase your site's traffic? Let us know on Facebook, Twitter and Google+.