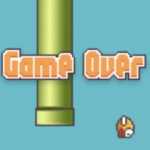 If you haven't already downloaded the addictive and much-hyped Flappy Bird mobile game for iOS or Android, you're out of luck. Yesterday, the developer behind Flappy Bird said he would be removing the remarkably/mysteriously successful game from the App Store in just 22 hours. Sure enough, the game appears to be gone. And in its spot on the #1 spot on the iOS leaderboard? A Flappy Birds clone.
Creator Dong Nguyen officially pulled the app from Apple's App Store and Android's Google Play platform, saying he could no longer handle the pressure and stress following its instant success. On Saturday, Nguyen sent a series of tweets warning that he was going to remove the app in just 22 hours. Fans pleaded with him to keep it available, but by Sunday at 12 p.m. ET, the app was no longer downloadable.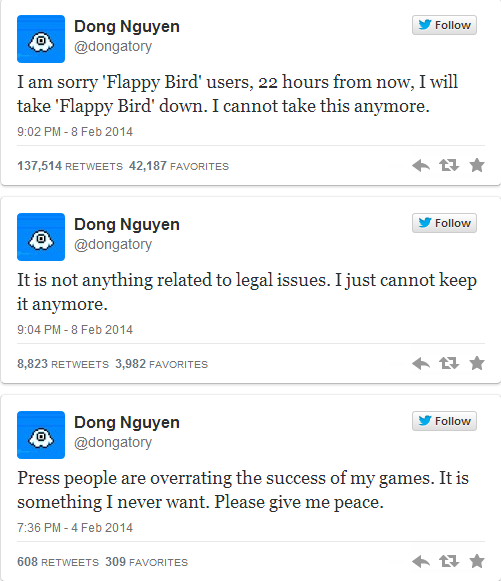 The ad-supported game has been in the news for topping download charts, worldwide, reportedly recording 50 million downloads and 47,000 reviews in the iOS App Store. Nguyen informed online publication, The Verge, that he's earning on average $50,000 a day through ads.
As Flappy Bird grew in popularity, game sites started ripping it apart. One blogger accused the developer of tricking the app stores into giving it a high app-store ranking. And then crazy jokes about people committing violence over the game started circulating on the Internet.
Within hours of the game disappearing from the App Store (seemingly) forever, listings have turned up on Ebay selling iPhones that have the game installed. At time of posting, the "cheapest" offer was for an iPhone 5S at $650 (it's already got one bid), while you could buy a 32GB gold iPhone 5S for $1500. Used.
Want to stay up to date with all the tech trends of 2014? Be sure to follow Infolinks on Facebook, Twitter and Google+