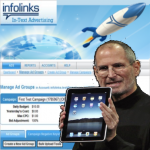 Infolinks Self-Service Marketplace is the industry's first In-Text ad server and a big hit among our large and small advertisers alike. Everyone is benefiting from the ease of use and fantastic results of the simplified ad platform. When you know something is this good, you've just got to share the good news, and that's exactly what we want you to help us do. And in typical Infolinks fashion, we're making it worth your while.
Write – Link – Share – Win
By following 3 simple steps to write your own article of Infolinks' newly released ads Marketplace, you can win a brand new iPad plus thousands of visitors to your site originating from our Self-Service Marketplace. The Deadline is October 10th, 2011.
Simply follow the 3 steps below:
#1 Write
Publish an article of at least 200 words about our new Self-Service Marketplace on your website or blog. Use our special Infolinks Marketplace Press Release* and other articles listed below as your sources.

Infolinks Press Release*
Media Post, Website Magazine, Yahoo News, Brand Channel
#2  Link It Up
Add the following link to the Infolinks' Advertisers Section on the words "Infolinks Marketplace" – http://www.infolinks.com/advertisers
#3  Share on Facebook
Share the link of your published article as a comment on our Facebook Fan Page. You can also Tweet your article for even more exposure!
Win an Ipad and More
Our top 3 favorite articles will be chosen based on the completion of the 3 steps above as well as the quality of the writing on October 10th. So be sure to finish each element listed above (Write, Link it Up and Share on Facebook) in order to be eligible.  The top 3 articles will win:
1st place – Ipad + 10,000 visitors to your website or blog generated by our Marketplace
2nd place – 10,000 visitors to your site generated by our Marketplace
3rd place – 5,000 visitors to your site generated by our Marketplace
Sharing good news with others is a reward in itself, but we know you really want that iPad. So get to it, and start composing your article of the new Infolinks Marketplace!