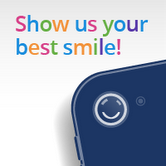 Spring brings us much to be happy for including sunnier days, warmer weather and a chance to double your May earnings! Because May is National Smile Month, we're celebrating by showing off some of our cheeky smiles and we want to see yours too. Share your toothy grin with us on Instagram and you will be automatically entered to win double earnings.
May is full of goodies, it isn't just National Smile Month this month. From Cinco de Mayo to Mother's Day, there's plenty to smile about this month. Our smile competition will take place on Instagram so go ahead and make yourself an account today if you don't already have one. Take a picture of yourself, or have someone else take one of you, and upload it to your account. Next, tag the picture #InfolinksSmile and let the games begin!
The picture that has the most likes at the end of the competition will win double earnings for the entire month of May! Now that's something to smile about. The competition will end the last day of May so make sure to get your likes in before May ends. Tell your friends to join and follow Infolinks so they can vote for you.
Instagram is a great social media platform with over 80 million users. Take advantage of their image savvy ways by promoting your products, showing how the products work stage by stage and giving a glimpse of behind the scene footage.
Make sure to check out the Infolinks employees' pictures too. We'll be posting at least one or two everyday so you can see who makes up our team.
Be sure to follow us on Instagram at @Infolinks to see some of our smiling faces and to sneak a peek at our fun office space.
Good luck!