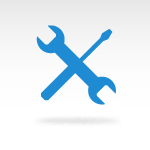 Publishers who fully customize Infolinks ad units enjoy higher earnings. Infolinks invites you to submit your website for customization review and let one of our senior account managers provide you with a premium optimization report. The website chosen for review will be featured on our blog post and win double earnings for a month.
Infolinks has new and improved customization options to choose from and we want to make sure it's easy as pie for all of our publishers to enhance their accounts. From choosing complementing ad product colors to knowing how many links to put on a page , when to use ON/OFF tags and what product combination will work best for you, it can be tough. That's why we're offering our expertise.
The winner will be announced in a follow-up blog post presented as a case study with its very own optimization report for all of our readers to benefit from.  After the winner implements our custom tips, Infolinks will double the next month's earnings.
In order to enter all you have to do is email us with your Publisher ID (PID) and the website you would like reviewed. We'll pick one lucky winner at random to receive top-notch advice.
Not a member of Infolinks yet? No problem! This contest is open to newcomers as well. Simply sign up for Infolinks and join in on the fun.
Good luck!