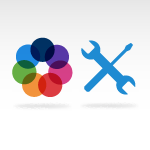 A few weeks ago we asked you, our Infolinks community to send in your registered Infolinks website for a chance to be selected for Premium Optimization and Double Earnings. We're happy to announce the owner of superglossary.com as the winner of this contest! Below you will find a professional review and tips on how to improve from Renata, a Senior Account Manager at Infolinks. Congratulations to our winner!
Renata writes:
Your Infolinks ads on superglossary.com are very well optimized. You are using three of our ad units: InTag, InSearch and InText on your website's pages.
The location of both InTag features look great on your pages and are optimally placed. You integrated one copy of the InTag feature above the fold and one below the fold creating an opportunity for visitors' engagement with the ads without cluttering your site. Nice!
While reviewing traffic statistics to superglossary.com, I noticed that about 40% of visits arrive from search engines making the InSearch feature highly effective and a great choice for your website.
In terms of InText ads, I advise you to change your underline settings to a double underline instead of dotted underline. It is statistically proven that the double underline delivers higher engagement rates with ads and yields better results. In general, making the InText ads stand out on your pages is always a good idea when it comes to getting more views and clicks. You can also experiment with the color of the InText ads on your pages for the very same reason.
Additionally, it appears that not all of your site's pages are integrated with Infolinks. Keep in mind that exposure is what helps earnings really take off – integrating Infolinks ads on as many pages as possible, particularly the homepage, will make a difference in your earnings.
And, last but not least, category! Infolinks offers a variety of ways to make ads more relevant and contextually appropriate with your website's content. Choosing the right category is of utmost importance and may impact the kind of ads which appear on your pages. I recommend you choose the 'Reference' category for more relevant ads which should help you increase your earnings.
Good luck with the optimization! And remember fellow Infolinkers, these tips may apply to your website as well.
Want to learn more about how to optimize ads on your website? Contact us.