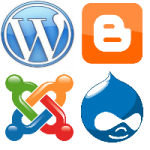 We are delighted to announce the launch of our newly upgraded Plugins for WordPress, Joomla, Blogger and Drupal platforms within our network. These newly upgraded plugins will still supply the same simple and quick integration for publishers adding Infolinks In-Text ads to their blog or website, along with some extra perks and features which enable you to customize your website to the max.
You may choose a certain blogging platform for a variety of reasons. We want to learn more about what entices you and your choices! Simply complete the short survey we created to help us gather information for an Infographic we will design based on the data you share. This Infographic will present all of the info we collect in a fun creative way. You'll enjoy sharing this cool graphical design on your blog for your own readers as well!
And in our typical celebratory fashion, for simply completing the 10 question survey below you will be entered to win a brand new Xbox Kinnect.  So fill out the short survey, share with your friends (remember sharing is caring!) and cross your fingers that you will soon be the proud owner of a brand new Xbox Kinnect.