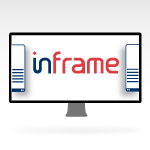 Turn on InFrame, the premier ad solution joining our suite of ad products! Upon first glance, these skyscraper banner ads may appear too conventional to belong to Infolinks, where we aim to monetize the under-monetized spaces of your website. However, this intelligent banner ad recognizes when your site is being viewed by a wide-screen monitor and presents ads in the extra real estate beyond the margins of your site.
Add InFrame to boost your earnings and  for a chance to win your own Dell UltraSharp U2212HM 21.5″ Widescreen Black LCD Monitor.
Capitalize on Prime Website Real Estate
Our new InFrame ad units appear outside of the margins of your site only when a user is arriving from a wide-screen device. These ads are attractively displayed beyond the typical advertising frontiers and are automatically formatted as either thin banners (120×600 pixels) or wide banners (160×600). Our intelligent algorithm scans the monitor size in milliseconds and displays the banner size best suited to frame your content.
Keep Your Signature Style
InFrame does not encroach on your site's aesthetic value or overlap any banner ads you may already employ. Our ads enhance your site's appearance, retain your style, while making you money with every view!
Monetize Rich Media Content
Infolinks' algorithm has always functioned contextually, but now InFrame allows us to monetize websites light on text and heavy on images, video and more! Now digital media sites can enhance their earnings with the power of Infolinks' intelligence via our new InFrame ad solution.
Perfected Payouts
With InFrame your earnings are calculated with a combined model factoring both clicks and views. This means that you will earn based on ad engagement, delivering the truest returns on your InFrame ads.
Win a Super-Sized New Monitor
Without a widescreen monitor it is impossible to see InFrame ads, that's why we want to present one lucky Infolinker with a brand new Dell UltraSharp U2212HM 21.5″ Widescreen Black LCD Monitor. To enter, simply click here to automatically implement InFrame on your website and Tweet Us with the hashtag #InfolinksInFrame and let us know what you think of our new ad product.
eg Tweet:
"Just added InFrame on my site and I'm loving it! #InfolinksInFrame" 
So add InFrame and Tweet Us today to expand your advertising horizons, earnings and possibly your monitor width.