The holiday season is full of magical family events… and the Infolinks family is cooking its own magic: The Double with a Bubble Challenge!
[youtube yPo_veAmZhE]
Since our publishers are the family stars, why don't you take part in our special video we are creating for the New Year?
All you need to do is film yourself looking at the camera, doing one of these two things:
Hold the attached sign with the word "Double" on it.
Or
Find a bubble of any kind and film yourself with it – let your imagination run wild.
The video should be up to 10 seconds and should be uploaded as a response to this video:
http://www.youtube.com/watch?v=yPo_veAmZhE
Please also send us your video file in AVI format, with your full details to:  Blog@infolinks.com.
We will then take your videos and cook them together to create a cool Double with a Bubble video!
Wonder what it is? Film, send, and find out soon!
Each one of you who will make it to the video will get a cool prize;  we are going to give away:
20 Infolinks T shirts,
20 Infolinks bags,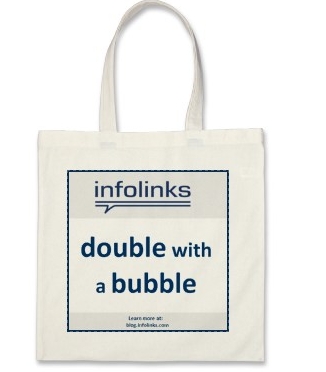 10 iPod nano 5th Generation,

10 Video cameras – Sony Webbie MHS  CM1  HD,

$1,000 in cash to the nicest entry!

The challenge starts on December 1st 2009 and ends on January 1st 2010.
So go ahead and film yourself with a "double" (the easy option) or with a bubble (the more creative option), win some cool prizes and be a New -Year star!
We wish you and your family happy holidays,
The Infolinks Team
By joining the Infolinks Challenge you agree to:
The Infolinks Double with a Bubble Challenge – Official Terms and Conditions.