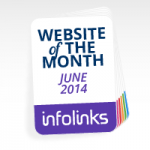 If most of the internet is about being updated with new information about what is going on right now, some of the most important and successful sites out there are the ones that help us connect and learn more about our past. Such is the case with this month's award winner AncientFaces, that "creates a visual picture of our shared past through the collaborative effort of the online community".
 
Founded in the year 2000 by a couple of friends from California, today AncientFaces is a successful and vibrant platform comprised of people around the world who believe in sharing their family history and genealogy. We interviewed the founder of the site Daniel Pinna to learn more about his passion for connecting users to their pasts.
How did you find your way into the publishing world? Well, back in the year 2000, before the "dot.com" bubble, a friend of mine and I were both looking for a way to experiment with this new thing called the internet. We were looking at a few different ideas, and my aunt who was an expert genealogist, had this great idea of creating family trees with pictures and we loved it and just went for it.
What is your favorite thing about your job?
I have been in a few industries in the past and I think that the best part of the online world is that there is constant pressure and a lot of responsibility. There is always something to do. And also, working in small teams means that you always have new challenges, meaning that with AncientFaces I do product development, content, marketing and user experience all in the same day.
Where do you see your site in 5 years?
Hopefully we will build a product that is based around our users' expectations. AncientFaces has a lot of different types of users, some more interested in "re-living" a certain era, and others that are interested in their own family history. So hopefully we will be able to supply different experiences for these types of users by giving them their own products.

To what do you attribute your site's success?
Well AncientFaces only started to grow when my partners and I started doing this full time a few years ago. Following that change, our traffic grew 30x. We attribute that to the fact that we don't assume what our users want; we ask and test all the time. We run a lot of small tests to see what our audience engages with better, and sometimes we flat out ask them. We do these tests to help us understand where our website needs to go.
What tips can you give people thinking of entering the publishing world?
I meet a lot of people who just think that the internet is "easy money", and the truth is very far from that. So my biggest tip would be to have passion about what you are doing, because without passion you will lose your energy very fast. What you have to do is keep your eyes and ears open, listen to your audience, and learn your field while mastering new technologies and tools.
What are your "dos and don'ts" for people thinking of starting a website? 
Do's –          Live and breathe your product or site 24/7 –          Update and add new functionality all the time –          Listen to industry experts but listen more to your users Don'ts –          Don't assume you know the answer – test your hypothesis –          Don't hesitate to learn new technology and expand skill sets –          Don't assume you know what it takes to win, you never know what will happen.
What is your overall experience with Infolinks?
My experience with Infolinks is very positive. I tested a few similar services and found that the technology behind Infolinks' products is just amazing. A big issue for us was site load time, and many of Infolinks' competitors just slowed down our site so badly.
How are we different than other networks? Why did you choose Infolinks?
I think that the main difference is that Infolinks is always pushing the envelope regarding technology, always changing and improving and that is supper important. We also love working with the Infolinks Support Team and account managers. They are really good people and always very receptive. There are so many ad networks out there, but with Infolinks we know we always have top notch technology and great customer support. Follow Infolinks on Facebook, Twitter and Google+.