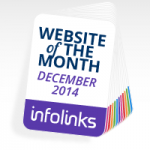 This month's Website of the Month is a fantastic read in all directions. Sarah of Bombshell Bling built a website, a huge social media following, and with it she developed greater self confidence and a supportive group of friends in her online community. Read on for inspiration and for tips on how to go about creating your own online ventures.
Sarah is a working mom of two and is proof that you can do anything you put your mind to. Never having worked on or with a website before, she started her site Bombshell Bling in the fall of 2012 under a different name as a project with a friend. She now runs the website herself out of Denver, Colorado and receives 350,000 views per month.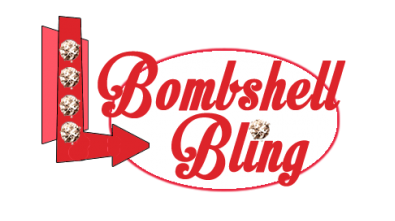 How did you find your way into the publishing world?
I found my way into the publishing world by accident.  I was suffering from severe postpartum depression following the birth of my second child when a dear friend of mine, Courtney O'Dell from the creative blog Sweet C's Designs, invited me to join her in her venture to begin a second creative blog, Craft Quickies.  She knew that I was making and selling jewelry, and that I was suffering from PPD and could use another creative outlet and way to feel productive and appreciated.  I began small by finding jewelry tutorials from around the web for her to feature on Craft Quickies.  Soon after I began, I asked her if it would be ok if I did an original tutorial for the site.  She was enthusiastic about that idea, and I was hooked instantly.  Eventually she got too busy with Sweet C's Designs, and Craft Quickies evolved into a site where only I was posting.  She generously handed it off to me and I rebranded the site to match my jewelry design brand, Bombshell Bling.
What is your favorite thing about your job?
There are two things that I love the most about my job as a blogger.  The first by far is the motivation and "excuse" to be creative.  I love to be creative and make beautiful things, but as a busy mother of two small children it can be hard to justify taking the time to develop my own hobbies.  Now I "have" to make new jewelry, redecorate bedrooms, and experiment with cookie recipes.  Shucks.  😉
The second thing that I adore about my blog is the amazing group of blogging colleagues that I have found.  I have formed incredibly close and meaningful friendships with so many women in the creative blogging world, and we love to collaborate and support one another.  I feel truly blessed to have them in my life.
Where do you see your site in 5 years?
Like any website owner, I hope to see continued growth on my site.  I hope to dramatically increase my viewership, and I hope to cultivate a more active community of social media followers with whom I can interact regularly.  I also hope to be able to collaborate in meaningful partnerships with some of my favorite brands.  Most of all, I hope to still be enjoying the process of blogging and continually striving to find and fine tune my "voice" so that blogging continues to be a meaningful and fulfilling part of my life.
To what do you attribute your site's success?
I attribute my site's success to the support of my fellow creative bloggers.  Truly.  I have learned so much about social media, photography, and confidence in my place in the online world from working with other bloggers.  Throughout my life I have had friends and family members who have encouraged my creativity and helped me to fine tune my skills, starting with my incredibly creative mother, but my success in the online world is due entirely to the generous support of other bloggers, especially the aforementioned Courtney O'Dell from Sweet C's Designs.  I am blessed to have always been surrounded with a great team of cheerleaders.
What tips can you give people thinking of entering the publishing world?
First of all, invest in a quality DSLR camera and do some learning about natural light photography.  If you are in my niche of the online world and you don't have "Pinnable" images then your projects will not be shared, regardless of how incredible they may actually be.  In the craft, DIY, and food creative blogging world, it is ALL about the pictures!  I am not an expert on photography in any way, but I continually invest time into developing my abilities because I know that they are vital to my success as a creative blogger.
Secondly, find a support team.  Help one another, build one another up, and don't get caught up in the comparison or jealousy game.  Celebrate one another's successes and be generous with your time and talents.  A great way to find "your people" is to attend a blogging conference.  That is where I found most of mine, and where I solidified developing relationships with existing friends whom I had only met online up until that point.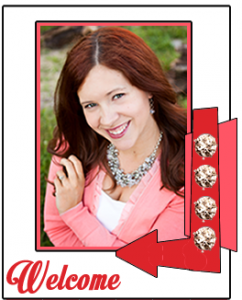 What are your "dos and don'ts" for people thinking of starting a website?
DON'T compare yourself to others in a way that creates competition, bitterness, discouragement, or resentment.
DO find a team of bloggers who will support you and build you up as you support them.
DON'T expect to make a bunch of money right away.  You have to build your readership up brick by brick.  Be patient.
DON'T post about anything and everything that you can get for free or be paid to use. In my earlier blogging days I took almost any opportunity that came my way. That resulted in some inauthentic feeling posts. I am now very picky about what I promote on my site.  Just because something pays well does not mean that it matches my voice or jives with my readership.  Likewise, just because a small company can't afford to pay me a large fee to use their product in one of my creations doesn't necessarily mean that I won't choose to work with them.  Feeling authentic to my voice and vision for my site is now my driving force behind my business decisions, and it has led to greater reader support, and, consequently, increased success.
What is your overall experience with Infolinks?
I am a HUGE tech dummy. HUGE. I have to beg help from friends or pay someone anytime that I need to make back end/HTML/code changes on my site. But not with Infolinks!  I was able to install Infolinks — BY MYSELF — in minutes, and then fine tune the options and appearance without help!  Seriously, that is amazing to me.  It is a very user-friendly platform, and it has greatly benefitted my ability to pay our monthly bills!
How are we different than other networks? Why did you choose Infolinks?
I chose Infolinks at the recommendation of my blogging friend to whom I keep referring, Courtney O'Dell.  She told me that it was simple enough for even me to figure out and that she was making steady, consistent income using Infolinks. The only thing I regretted after signing up was that I hadn't done it sooner!
That's a wrap, folks! We'll announce the Website of the Year in no-time! And stay tuned for the announcement of our Thanksgiving winner early next week.
Don't forget to follow us on Facebook, Twitter, Google+, and Pinterest.