Can I receive my payment via Payoneer?
Yes you can! In order to receive your payments via Payoneer, all you need to do is sign up for a Payoneer account. You can apply to get an Infolinks Prepaid Debit MasterCard® to load your earnings and use it anywhere MasterCard® is accepted, including ATMs. If you already have a Payoneer account simply register it as your preferred payment method under Payment Settings in your Infolinks account. Payoneer enables easy & safe global payments, using a prepaid Mastercard®. If you need any assistance with your Payoneer account, please contact Payoneer Customer Support.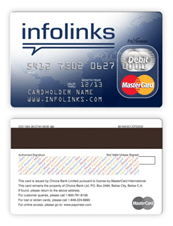 Know the facts:
After your Payoneer payment is issued it may take up to 5 business days for it to become visible in your Payoneer account. The minimum payout threshold for Payoneer is $50. Currently there are no fees associated with Payoneer payments. Payoneer is available in most countries worldwide. Although the Payoneer Prepaid Debit MasterCard® is not available in India; you can still select Payoneer if you reside in India. Please contact IndiaSupport@payoneer.com for more information about this option. Once the order has been processed, please allow 10 business days to receive your card by regular mail within the U.S. For delivery outside of the U.S., it may take up to 25 business days to receive your card. This card is received at all locations accepting Mastercard, including ATM's. The ATM will let you withdraw cash up to the balance available on your card. To determine if your card can be used at a particular ATM, look for the logo on the back of the card. If the logo is located on the ATM, your card can be used at that ATM.