To the naked eye social media is seen as a way for people to connect online with one another. To scratch the surface even just a bit shows social media as a driving force for successful businesses around the world. The statistics so far for 2014 are in and social media is bigger than ever. Facebook may be the biggest name in social media but its competitors are each doing very well.
Knowing some stats on each platform is important in order to drive any campaign. For example, products designed for women may have better campaign results on Pinterest than on any other. Each social platform has different reach, different pros and different ways it delivers to its audience.
Facebook
Facebook destroys the competition in terms of monthly active users with over 1.28 billion and counting. In fact, the number of users in India alone is over 100 million. Facebook isn't just for the young either – 72% of online adults visit Facebook at least once a month. Running a campaign with boosted posts? It's vital information that 75% of the engagement on a post happens in the first five hours.
Twitter
An interesting Twitter fact is that 44% of users have never sent out a single tweet. That's a big number considering that Twitter has over 1 billion total users. And so it's not hard to believe that 391 million accounts have no followers. But its active users more than make up for the inactivity as 500 million tweets are sent per day, with 46% of users tweeting at least once a day.
Google+
If it wasn't clear before,  make no mistake that Google+ is a big player in the social media realm. There are 540 million monthly active users and 53% of interaction between a user and brand is positive. That's big news for businesses. Over all 22% of online adults visit Google+ once in a month.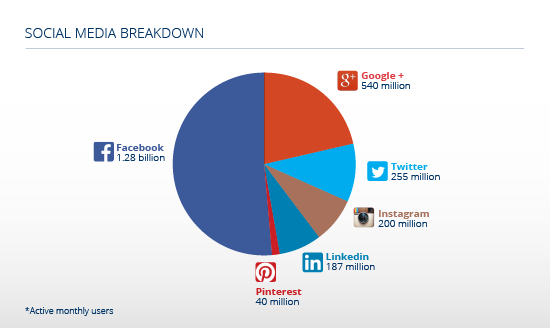 Instagram
The soocial media crowd loves Instagram. In the last six months alone it's seen 50 million users sign up. 23% of teens consider Instagram their favorite social network. Brands would be wise to take advantage of this image-based network as over 20 billion photos have been shared to date.
LinkedIn
LinkedIn is seeing tremendous growth as more than two users sign up every second.  The crowd is getting younger as well with over 39 million students and recent college graduates on the platform looking to promote their achievements. They're sending out their applications in big numbers. 44K is the average number of daily LinkedIn mobile job applications. And their odds are good – a total of 200 countries and territories are reached by LinkedIn.
Pinterest
Pinterest may only be a few years old but it has seen exponential growth in its short existence with 40 million monthly active users and 70 million total users. Running a campaign for women's products? This is the market. 80% of Pinterest users are female and 92% of Pinterest pins are done by women. Moreover, 84% of women and 50% of men on Pinterest stay active once they've joined.
YouTube
YouTube is the mecca for all things video. 100 hours of video is uploaded on YouTube per minute, and a whopping 6 billion hours of video per month is watched. YouTube also has a big mobile presence as 1 billion is the average mobile video views per day. However, as earlier stated, knowing a platform is best before beginning a campaign. For example, YouTube has over 1 billion total users, but 80% of YouTube traffic is from outside the US.
Blogs
The amount of bloggers present online has increased in a big way: over 6.7 million people blog via blogging sites and over 12 million people blog via social networks. Maybe some businesses don't need a blog to go along with their marketing campaign but blogs play a big role in different ways. Companies with a blog have 97% more inbound links than companies without a blog, and B2B marketers using blogs generate 67% more leads.
The numbers speak for themselves. Social media plays a significant role in the online world. Businesses and bloggers alike are using these platforms for their own good and it's working. Infolinks is all over social media; check us out on Facebook, Twitter and Google+. And don't forget our blog!