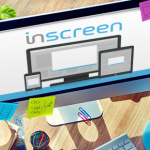 We here at Infolinks are constantly working on creating the most innovative and high performing solutions for our publishers. That's why we are excited to finally introduce the newest part of our family, InScreen. Powered by our intent algorithm, InScreen is a smart interstitial ad unit that drives almost X2 industry standard results due to its unique customizable triggers.
Considered one of the most visually compelling and high performing ad formats, interstitial ads have become a norm for almost all of the top publishers in the world. They are also the first ad format borrowed from the web that found a natural home on mobile, primarily by overcoming the platform's biggest obstacle: screen real estate restrictions.
The ability to grab a user's undivided attention, especially on mobile, is incredibly appealing to advertisers who can create beautiful and engaging ads, with a lot more flexibility, high quality artwork and powerful copy.

Pros and Cons of Interstitial Ad Units
Pros:
Visually compelling
High impressions
High conversions
Cons:
Usually serve non targeted ads to users
Require design work and thought regarding placement
Why is InScreen Different from other Interstitial Ads?
InScreen solves the two main challenges of interstitial ads (placement and relevancy) by matching our real-time intent platform along with our innovative customizable advanced triggers.
Real-time Intent
Powered by our real-time intent platform, we designed InScreen to serve ads relevant to the content users are actually looking for by matching the search term, referring URL, link clicked and the content of the page to the ad served.
Advanced Triggers
InScreen can be activated by one (or more) of three triggers:
A user enters your site
A user switches from one page to another inside your site
A user leaves your site via an external link
Top Industry Results
Running in BETA for several weeks, InScreen has been showing great results with 7%+ CTR rates on both mobile and desktop. These are industry breaking results, as most official interstitial ads CTR rates range between 2%-5%.
Start Making More With InScreen!
Serve your users well-timed ads, driven both by user intent and website content. All you need to do is to sign in to your Publisher Center, select the trigger(s) you want InScreen to run on and that's it! InScreen will begin appearing on your website. Already using InScreen? Let us know what you think! We're ready for your feedback on Facebook, Twitter and Google+.