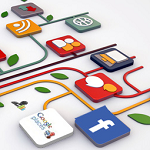 It's always great when we get positive feedback about our blog and content from our more than 120k partnering publishers. Such was the case after a post we published last month titled"10 Free Blogging Hacks That Will Save You Time". Apparently, all you bloggers enjoy reading content about blogging and online marketing tools! Who would of thought.
One of our publishers sent us via Facebook this great infographic by Techwyse showing all the must have marketing tools "that can help make your internet marketing easier and more efficient". These tools will allow you to save time while at the same time reaping the benefits of their effects.
The Complete List of Marketing Tools of 2015

Make More From Your Site
Now that you have saved time with these great blogging hacks, published great content and improved your site's speed and SEO, it's time to start making more revenue from your site! With Infolinks you can generate a new revenue stream from your site's unused ad space with our smart intent-driven ad units that are fully compatible with all of your other standard display ad solutions.
Do you have any more blogging hacks to recommend? Read on to see if it's included here in the list, and drop a note via Twitter and Facebook or just visit our website and join our network!