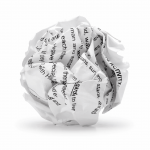 New to blogging? Or perhaps you need to brush up on your skills? Check out this guest blog post from the owner of On Blast Blog to help you avoid the most common mistakes made by new bloggers. These tips will help you get your feet on the ground running. You can even ask the author, Matt, your own personal questions – keep reading to see how.

So, you've decided to start a blogging career, a wise choice if I do say so myself (and I do) – so what now? Well you can find all kinds of guides on how to best optimize your blog and how to put in the best keywords, but ultimately when you're first starting out, it's all about avoiding some very important, but relatively unknown mistakes.
Today I'll help you avoid some common mistakes made by new bloggers, so you can focus on gaining traction and building your readership. If you want to know more, check out On Blast Blog and all the content there, it's all good! In the meantime though, let's find out what mistakes to avoid on your new blog.
Rookie Blogging Mistakes to Avoid at All Costs
By sidestepping these common mistakes, you can create an effective blog that gets a lot of traffic early on and makes a name for itself. Once you've laid the foundation, you can start building up from there and utilizing some more advanced techniques that add fuel to the fire. Let's jump right in, shall we?
You're Not Self-Hosting On Your Own Domain
Youch! I can practically feel the hits dissipating into the ether of the internet just thinking about such a horrific thing. While it's nice to start a blog for free, when you work with a subdomain like yourblogname.thehostsname.com you're shooting yourself in the foot from the get-go. Not only are these URLs not ranked as high in search engines, but you're making it harder for people to find your blog.
On top of all that, it's just not professional to have your URL be anything but your own. You can buy premium domains from platforms like WordPress and Blogger, but ultimately this too is putting a damper on your success. By choosing to purchase a domain and hosting service through websites like Web Hosting Hub or GoDaddy, you can have full control over your blog's layout, look, and you'll never have to worry about storage space and shutdowns if you step out of line.
You Don't Optimize Your Permalinks
This is one that most beginners won't know about, so pay special attention here. By default the links that lead to your various posts are something odd and confusing like blogname.com/?p=123. That's not easy for a person to remember, and even the all-powerful Google has trouble with names like that, so nobody wins.
Once your blog is up and running, change your permalink settings to something that makes more sense and keeps the organization of your blog's layout short and sweet. You can set it to automatically place the title of the post in the URL or just customize it yourself with keywords and a shorter length. Either way, don't leave it on the default setting.
You Haven't Submitted Your Blog to Search Engines
While a well-organized blog with short and keyword friendly permalinks goes a long way, you also need to make yourself known to the search engines you're trying to please. There are two options here: you can wait for the hits to start rolling in, or you can use an easy tool to submit your blog to Google and have it indexed by the search engine.
You're Not Properly Formatting Your Posts
Nobody wants to walk face-first into a giant wall of text. Nobody wants to read a long post without pictures to supplement it either. There are plenty of things you can do to better organize the layout of your posts. For example, try breaking up paragraphs so that each one is only three to four lines long instead of eight to twelve lines.
In addition, try to put in some numbered lists or bullet points, these break-up the flow nicely and are catching to the eye. Last but not least, include pictures because people love pictures. When you're uploading them to the post, a helpful thing you can do is adding something called an Alt-text which essentially provides Google with a description of the image.
You Haven't Added Social Sharing Buttons
If you're using a platform like WordPress (who isn't?) you can easily install some plugins or a widget for social media. How important is this? It's like oxygen for your blog; it keeps it breathing and alive on the internet. When people read your posts and they are excited to share it, these buttons will make it as easy as a couple clicks to do so. When you're content is shared on social media, it spreads like wildfire.
Without these buttons, your readers can't share and promote your content, and you in turn are once again limiting yourself and the potential of your blog.
Here are a few tips to take with you. Remember, all of these things should be implemented no later than right after you finished reading this article. These will help avoid even more mistakes in the future:
Offer multiple subscription methods (RSS, Email Newsletters, etc…)
Take time to Learn search engine optimization (SEO) techniques. There are plenty of free resources for the advanced stuff as well.
Engage your readers by answering questions and responding to comments for each post for publish.
Don't try to be someone that you're not. Adopt your own writing voice and stick with it.
Implement a logo or picture of yourself, this way you can establish a brand people recognize.
Use easy to read, simple fonts so you don't make the posts difficult to see.
Always end with a question or a call to action (CTA) that gets people commenting and sharing.
Strategies to Hook Your First 1,000 Readers and Beyond
Since the hardest thing to do in the world of blogging is grow your traffic, I've scoured the internet for a good resource that can help you fine readers achieve those first 1,000 readers and grow from there. You may get excited when you hit the first 50 or 100 readers, but that's chump change; a combination of friends, family, and favors. I'm here to show you how to get a whopping thousand of them and build it from there.
Quick Win Posts
A great way to earn some readers fast is to give them something first. Known as a "Quick Win" post, these are designed to solve a problem or answer a question. Something like this allows your readers to take action right away and provides them with a reason to subscribe.
Place a Welcome Gate
Like some other websites, you can implement a "gateway" of sorts where readers have to enter their name and email to see the content. When used right, this is a great way to earn a lot of emails and readers very quickly.
Institute a Comment Check Box
With a simple plugin download, you can add a checkbox to your comments area that allows people to simply click and subscribe as they are inputting their opinion on your post. Ease and simplicity are your two best friends.
Create a Popup
A simple plugin can help here as well, giving you the option to create a popup that collects emails when people visit your site.
Some Final Thoughts
We all make mistakes; that's what makes us human. By avoiding some of these more commonly seen ones, you can put yourself in a position to grow your blog much faster. The strategies above will also push you towards higher readership numbers and increased traffic. Tell me about the mistakes you've managed to avoid or ones you want other bloggers to avoid on my Twitter account @BlastYourBlog As always, thanks for reading and best of luck!
Find Infolinks on Facebook, Twitter, Google+, and Pinterest.