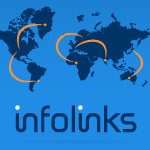 Now even more Infolinkers can enjoy eCheck as a payment method. We updated our eCheck options to include even more European countries! This is great news for our publishers that want to receive their payments by eCheck in their own currency and were unable to do so before. The Infolinks payment system now supports SEPA ("Single Euro Payment Area"), a European regulation relating to fund transfers.
A total of 32 European countries are currently SEPA participants (listed below). The countries that were currently supported still continue to be supported, just some additions have been made.
What is the eCheck?
eCheck is a direct bank transfer (similar to a wire transfer) but at a much lower cost. In some countries (e.g. UK, Sweden, Denmark), eCheck will now support both the local currency and EUR and the payee can select the eCheck payment currency.  Please note there is a 2% conversion fee from USD to your selected currency.
What are the benefits?
The benefits are numerous! Payees in these newly added countries can now receive payments via eCheck/global ACH in Europe in the form of a direct money transfer to their bank account. Even more, the eCheck option has lower fees than a regular wire transfer, with an even lower threshold. The threshold is $50 which is lower than most other wire transfer options.
SEPA Countries:
Austria
Belgium
Bulgaria
Cyprus
Czech Republic
Denmark
Estonia
Finland
France
Germany
Greece
Hungary
Iceland
Ireland
Italy
Latvia
Liechtenstein
Lithuania
Luxembourg
Malta
Monaco
Norway
Poland
Portugal
Romania
Slovakia
Slovenia
Spain
Sweden
Switzerland
The Netherlands
United Kingdom
Visit your Publisher Center to make the switch.