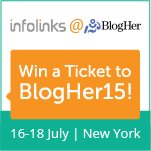 Infolinks is presenting at BlogHer15 and we want to see all of you Infolinkers there with us. That's why we are giving away two full conference passes to the largest blogging event in the world, that will be held this year on July 16-18 in New York City. Want to win a full conference pass? All you need to do tell us why you deserve to get the tickets to this year's BlogHer!
About BlogHer15 NYC: Experts Among Us
BlogHer15 is the world's largest conference for women content creators. The conference focuses on highlighting the skills and talents of blogging women from all levels of blogging experience by organizing lectures, seminars and special parties. BlogHer is open to everyone who sees themselves as being part of the blogging community. Despite the focus on men, about 10 to 15 percent of the participants are men.
This year's event that will take place on July 16-18 in the Midtown Hilton in NYC and will be focus on women experts in all fields of life, with keynote speeches from Oscar winning actress Gwyneth Paltrow and two time Oscar nominee Ava DuVernay.
Win a Ticket to BlogHer 2015!
As one of the independent blogging networks in the world with more than 125K active sites, Infolinks will be presenting at BlogHer15, and we want to bring two of our most passionate bloggers with us! All you need to do to win is to tell us why you think you deserve to get the free pass to this year's conference.
Share your posts with us via Facebook or Twitter and send them to BlogHer@Infolinks.com, and among all the submissions we will choose two winners that will receive full passes to BlogHer15, worth more than $750 and will also be featured on the Infolinks blog.
IMPORTANT: Winners will only receive passes to the event, and Infolinks will not cover any other expenses such as flights, accommodation, etc.

Come Visit us at Booth 1221
Already attending Blogher15? Great! Come visit us at booth 1221 as we would love to say hello and hear more about your experience with us. Not an Infolinker yet? That's great! Even more of a reason to visit us at booth 1221 and hear how you can create an additional revenue stream from your blog with Infolinks. Want to set up a meeting? give us a shoutout on Facebook or twitter, or send us an email at blogher@infolinks.com