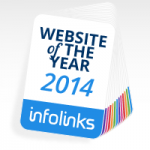 After an amazing year and 12 inspirational publisher stories, it is time to announce the winner of our website of the year award for 2014. Following a large amount of positive feedback from all of you Infolinksers, we are very proud to give the first ever Infolinks Website of The Year award to Alex and Cassie Michael of The Thrifty Couple.
The Infolinks Website of the Year 2014: The Thrifty Couple
Featured back in July of 2014, Alex and Cassie's story of how they turned their own family debt into one of the leading DIY's sites in North America, was the most shared of all of our Website of the Month posts, moving countless people on the way.
We talked to Alex and Cassie (The Thrifty Couple)  in their home in Utah, who were very moved by the award and had this to say:
So, how does it feel to be named the Infolinks site of the year for 2014?
In only a couple of words: amazed and humbled!  We know that Infolinks is HUGE – to have been selected out of the 100's of thousands of sites they work just boggles our mind.  We were humbled (knowing how many amazing sites are out there) and amazed that Infolinks selected us.  Thank you so much!!
How would you summarize 2014 for your site and how is 2015 looking?
Each year has amazing challenges that seem to continuously present themselves.  But as we mentioned in the video, what's great is that as we deal with each of those challenges, we can rely that Infolinks is standing there right beside us to make sure the income is still coming in – all without us doing a thing!
Already this year we received an email from an Infolinks success manager about another feature we could enable on our site to bring in even more income – and after it was turned on we saw our income increase significantly each day.  So in sum, this year is going even better than we could hope.
First Runner Up: Ancient Faces
The decision was not easy. With sites like Wrestling Inc, Recipe 4 Living, Farrah Gray and several more, the competition was tight. In second place, by just a few likes, shares and visits, came in Daniel Pinna of Ancient Faces who also opened is home and took part in our Meet the Publishers videos.
Want Your Site To Be Voted as Website of The Month?
Do you think your site has an amazing story like The Thrifty Couple? Want to be featured in our blog? Let us know via Facebook, Twitter or Google+ and you might win our "website of the month award". Check in with our blog in the upcoming weeks as we continue to feature in-depth interviews with the leading websites around the world.