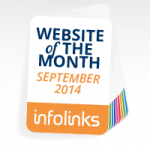 College sports fans rejoice – it's that time again. Football season has begun and it's only a matter of time before basketball season is well underway. If you're like most fans and your interest in college sports goes beyond seeing the game (think updates, interviews, stats, game scores) then look no further than Lost Lettermen, September's Website of the Month.
Jim Weber is the owner of Lost Lettermen, a website he founded in 2009 from Brooklyn, NY. Already working at ESPN The Magazine, Weber merely took his love of sports even further with his own site. Lost Lettermen has grown substantially since its conception, now averaging about 3 million unique visitors per month and its own app. It's been featured on Yahoo! Sports, ESPN.com, SI.com, USA Today, and more.

How did you find your way into the publishing world?
I began my career in the publishing world when I joined the team at ESPN The Magazine as a sports researcher and writer.
What is your favorite thing about your job?
Being my own boss! There is nothing more rewarding or challenging than running your own business, when you know that all of the failures and successes are a direct result of your work. If that doesn't get you motivated, nothing will.
Where do you see your site in 5 years?
I would love for Lost Lettermen to be part of a major media company. Right now I'm really pleased with its success and every season we're improving.
To what do you attribute your site's success?
The fans. College sports fans have a tremendous amount of passion, driving the entire industry. Obviously I'm a fan myself, so I like to think I bring insight into what others like me want to know and find interesting.
What tips can you give people thinking of entering the publishing world?
When looking for inspiration, pick websites you want to emulate, then find your own twist. It's important to bring a new angle or idea so your website has something different to offer.
What are your "dos and don'ts" for people thinking of starting a website?
– Don't do it if you aren't 110% dedicated to it succeeding through ups & downs.
– Do know that all websites have their ups and downs and your hard work
will pay off.
What is your overall experience with Infolinks?
Infolinks is a great online advertising platform. I find it easy to work with and it was so simple to implement on my site.
How are we different than other networks? Why did you choose Infolinks?
I chose Infolinks for its variety in products and its ability to monetize my entire site. Instead of replacing other revenue sources, Infolinks does a great job of finding additional ways for you to monetize your website that's a win-win for everybody.
For more from Infolinks, like us, follow us, and check us out on Google+…