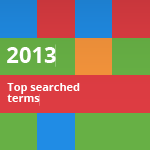 Google's recently released annual zeitgeist report, which rates all the different terms and phrases we searched for most in 2013, provides an interesting look into what people are most curious about over the web. A look at this year's top 10 overall searches shows us that the two topics that we all are fascinated about are death and the desire to own new shiny expensive stuff.
Nelson Mandela was the top global trending search of 2013, according to Google. After the South African icon was action star Paul Walker, who died last month in a tragic car crash. The third spot in the list went to Apple's iPhone 5S, followed by Glee's Cory Monteith and the Boston Marathon tragedy at the #4 and #6 spots. The number #5 slot went to the year's biggest YouTube sensation, The Harlem Shake.
The Top Google searches of 2013: Overall
Nelson Mandela
Paul Walker
iPhone 5S
Cory Monteith
Harlem Shake
Boston Marathon
Royal Baby
Samsung Galaxy s4
PlayStation 4
North Korea
The Top Google searches of 2013: "How to"
In recent years Google and other search engines have become our guides on how to do almost every and anything action you can think of. Yet, the results are a lot less sexy than you would think with the time-old question of how to tie a tie leading the "how to list". One of the most pouplar results for this search is this simple guide on how to tie a tie that has more than 15 million views on YouTube
At #4 in the "how to" list came we can find the ultimate question of "how to blog". This shows us that in today's world, blogging is as popular and relevant to people as is knitting, kissing, flirting and whistling – all coming after the "how to blog" on the list.
The full "How to" top 10 list is:
How to Tie a Tie
How to File
How to Get a Passport
How to Blog
How to Knit
How to Kiss
How to Flirt
How to Whistle
How to Unjailbreak
How to Vader
The Top Google searches of 2013: "What is"
In the "what is" category we find some much more amusing results. At #1, by a landslide, came in "What is Twerking?" Yes, thanks to Miley Cyrus's now infamous 2013 VMA appearance, your grandparents know what it means, and you'll have to answer awkward questions about it at Christmas.
People's interest in twerking helped many bloggers and sites create huge traffic with videos and stories explaining the new phenomenon. Like this hilarious video by Howcast that already has more than 20 million views on YouTube:
The full "What is" top 10 list is:
What is Twerking
What is Ricin
What is DOMA
What is Molly
What is Gluten
What is Sequestration
Whst is Obamacare
What is Lupus
What is Snapchat
What is Bitcoin
These are just a couple of the search terms that dominated 2013. Tune in to our blog in the upcoming weeks as we continue to recap 2013 in the tech and social media world and try to predict what will happen in 2014. Want to stay up to date with everything new in the digital marketing world? Be sure to follow Infolinks on Facebook and Twitter