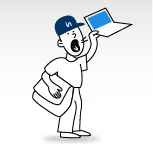 A few weeks ago we brought you some great SEO ideas along with how to start your SEO plan. While SEO is one way to deliver more traffic to your site, a good old promotion tactic can help loads. There are several ways to go about to promote your website or blog with the benefit of increased, continual traffic. You don't want visitors to come by just once, but rather to keep coming by often.
Tips on how to promote your website, user experience and more:
Social Media
Social media is a great way to keep in touch with your friends but it's a great tool for promoting your website. Use Facebook, Twitter, LinkedIn and any others you use as the perfect outlet to spread the news about your website or blog. Ask your friends to help you along by liking, tweeting and reposting your site or blogs posts to spread the word to others. Internet users are more likely to visit your site if it's recommended to them by a friend (word of mouth is the best advertisement). You can even try using a social media managing platform like HootSuite that allows you to promote your site on all social media outlets at once.
Forums
Social media is huge when it comes to spreading the word about just about anything, but don't forget about forums. There are endless forums for you to engage in conversation about your website's needs, and even more so, the niche topic you focus on. Place your site's URL in your forum signature – you'll be sharing and learning about your topic as well as spreading the word about your site.
Design
In an earlier Trend Center article we tested the top 200 highest paying Infolinks websites to see what they all had in common in terms of design. It turns out the design, colors and themes of a site make a difference! For example, we found that websites with grey backgrounds and white foregrounds were the most common in the 200 sites. Read the entire article here.
 User Experience
Is your site easy to navigate? Make sure that your site plan is easy to follow. If visitors to your site can't easily find what they're looking for or get to pages they're interested in, they will be unlikely to return. An easy to find menu bar and grouping relevant topics together are just a few ideas to keep your readers happy. Most of your readers will be all too happy to share with you their thoughts on your opinion, writing skills etc., and this isn't always bad! Engage them with a comments section and end each post with a question to make sure they get involved.
Guest Blogging
If you blog about something you love and you've become an expert in your field, you should try guest blogging. It's a great way to share your expertise and to spread the word about your website. When people like what they read they'll visit the link to your site for more helpful tips.
Video Blogging
You can find just about anything on YouTube, so why shouldn't users be able to find you? Record anything you feel like users would find helpful. Try reviewing a new product connected to your site's category or promote a product of your own. Your video may not go viral but it may have just the effect you're looking for. From there, Google will index your content, and others can embed your video on their blogs and share it via social media.
Link Exchange
One of the most important ways to get traffic to your site is through a link exchange. You can do this with your friends or websites that you work closely with, for example one that you guest blogged on. Other ways to do this are to simply write to a website you want to link to your site and ask them for a link exchange. The word they use to link to your site should be related to your site, not just a "click here". For example if your site is about cake design, the word linking to your website should be a high-ranking keyword in this topic.
Write On
Once you have successfully promoted your website or blog you want to make sure your readers keep coming back for more. The best way? Keep on writing. Post regularly so that your readers have something new to come back to each time. Let your knowledge flow!
Whatever tactics you choose, promoting your website is a must for those looking to boost their traffic numbers. Let us know your favorite website/blog promoting tips on our Facebook page.