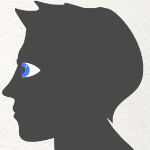 Banner Blindness occurs when visitors ignore display ads while reading website content. This phenomena affects the entire online community, from website publishers to advertisers and brands. For instance, the average American user sees 1,903 ads a month, while just 2.8% of the users find these ads relevant. Infolinks rounded up the latest numbers and facts on banner blindness from 2012 in the following infographic.
Banner blindness is a phenomenon that all online advertisers struggle with. Website users around the world have developed a skill to ignore ads that appear in traditional ad spaces. It's this kind of user behavior that shapes the creativity of marketers and forces outward thinking. Infolinks took this mission to battle this reality and for months planned and tested a set of ads units to serve highly relevant ads and receive more attention from online visitors.
When the first online banner ad debuted on HotWired in 1994 it took the internet by storm with a 78% click through rate. Nowadays the average banner ad reels in .09% CTR. In 1997 Jakob Nielson, the leading web usability guru, studied the eye pattern of internet users with the help of heatmaps. He discovered what he called banner blindness. Internet users have been programmed to subconsciously ignore the presence of online ads, not even glancing in the physical space on the page where assumed ads are located.