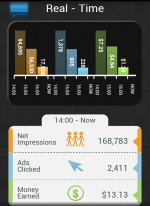 In January, we invited every Infolinker to brainstorm ideas for new features at Infolinks. We are very excited to present you with the winning idea – an Infolinks Mobile App for your Smartphone. Now you can easily check your reports in Real-Time, the status of your websites, payment history and more with a few swipes of your finger. To celebrate our new launch, we are giving away a brand new iPhone 5 to one lucky Infolinker who downloads Infolinks' new app.
Download The Infolinks Mobile App


Smartphone users rejoice! We've just made it even easier to access your Infolinks account. Our new mobile Infolinks Real-Time app is a mini version of our own Publisher Center and has five different functions to keep you informed with the most up-to-date information about your Infolinks Account. The most special feature about our new mobile application is that you can actually see your stats in Real-Time. This is the first feature of its kind in the industry, and we're bringing it to you to upgrade your user experience.
You can also easily view your reports by date to see your Impressions, Clicks, Page CTR, Page eCPM and earnings for each of your websites. Plus you can check your Payments and Earnings from the convenience of your mobile device.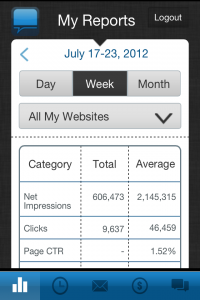 With the new real-time Infolinks mobile app, you receive any important notifications regarding your payments, tax form submission and other important details related to your account. Review your payment history for the past three months with this streamlined app for your smartphone. Infolinkers can even access our latest blog posts to stay on top of the most relevant news, contests and other important info.
Tweet Us to Win an iPhone 5
To celebrate the launch of this handy mobile app, in proper Infolinks style, we want to offer you a fabulous prize! To participate, simply download our new app to your Android or iPhone, and Tweet Us   with the hashtag #InfolinksApp. We will randomly choose one lucky publisher to win a brand spanking new iPhone 5. The new iPhone 5 has not even been released yet! But you will be the first of your friends to sport the hottest new phone, which is expected to hit the market later next month.     
So get to it! Add our new app, Tweet us and share the good news with your friends and networks. Pinners, Tweeters, and Facebook Friends alike should be enjoying the convenience of Infolinks' Mobile App. We will announce the winner on September 12, so start Tweeting now!