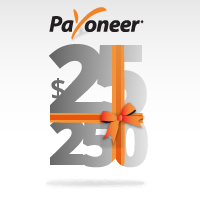 Earn $250 dollars in three months and Payoneer will give you an extra $25, just like that! Infolinks is proud to bring you this great offer. We worked hard to redesign our Payoneer PrePaid Master Card® and we want you to share in the glory. Whether you are new to Payoneer or have been using it for years to receive your Infolinks revenue, this amazing offer applies to you because anyone and everyone can win big. Is there anything better than free money?
All you have to do is set your payment option to Payoneer by June 1st, earn $250 from June to August and that's it!
Payoneer is a simple and low cost way to receive payments from Infolinks. It may be the perfect solution for you. Payments from Infolinks to the Payoneer card are available in minutes, and the card can be used to make purchases online, in stores, and at ATMs worldwide – with no bank account required!
Take advantage of this offer and sign up for your Payoneer card before June 1, and you'll receive a $25 bonus to your Payoneer card! The bonus will be loaded to your card once you receive a total of $250 in payments from Infolinks. You must earn a total of $250 in the months of June, July and August. Remember, this offer is open to new Payoneer users and those already using Payoneer. The $250 earning must be collected at once, so be sure to change your payment option to "hold my payment" until you've reached your goal.
New users will receive the newly designed card: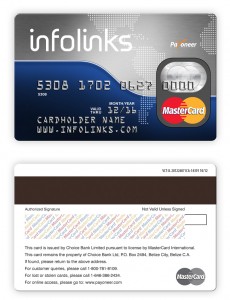 Good luck and happy blogging!